Photo Gallery
"One person caring for another represents life's greatest value." — JIM ROHN
NCOA invited photographers from around the country to submit work exploring the artistic expression of caregiving. Below are the artists and photos selected to receive special recognition. Supporting caregivers matters—we are working together to empower caregivers and their loved ones—so all can experience aging well.
You can also vote for your favorite photo on the full NCOA Gallery or take a stroll through the Virtual NCOA Gallery.
First Place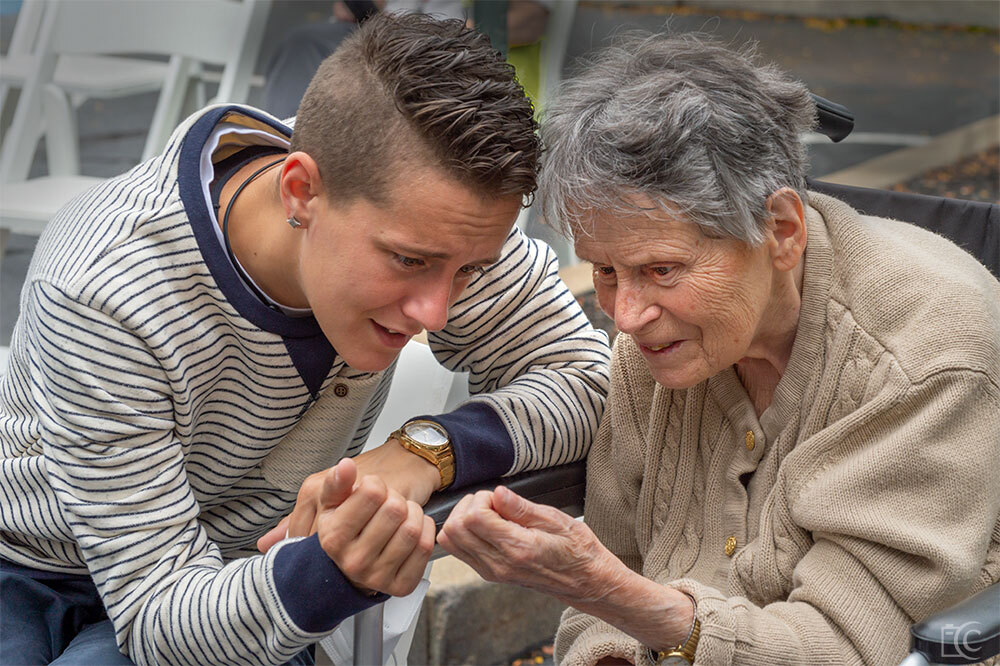 Artist: Cynthia Abatt | Title: About These Fingernails
This image ask us to look at stereotypes about aging with challenges, about who the caregivers are and about the typical relationship between a companion and someone who needs help. Everything about these two is different: their ages, their appearance, their assumed place in life, yet here they are, discussing manicures, or the lack thereof. We see the easy friendship between them, but anyone behind the scenes or anyone living with someone who is aging with challenges knows these kinds of relationships are hard fought and hard won. Perhaps it is the simpler things in life that help us bond after all. This photo was taken at Cadbury Commons Assisted Living in Cambridge, MA for their 25th Anniversary Celebration in the fall of 2021. Cadbury Commons is a 75-unit family owned and run assisted living home. The woman on the right is a resident, on the left a staff aide.
Second Place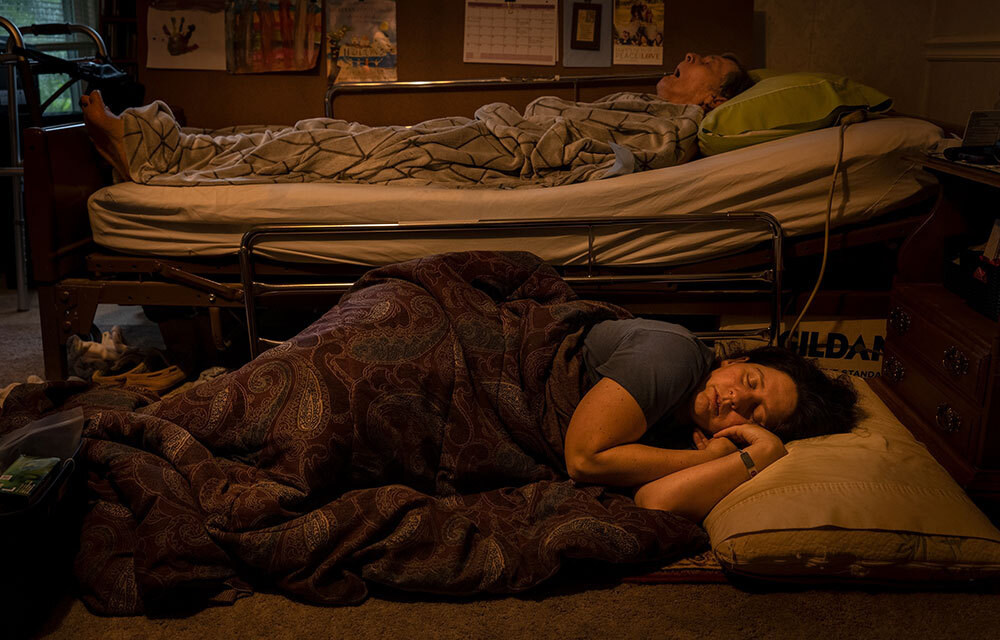 Artist: Steven Smith | Title: Night Watch
For the last two years, the entire world has battled COVID-19. Leandra Manos has also navigated caring for her 85-year-old father, George Manos, who is in the final stages of dementia. Dementia and COVID-19 have given Leandra the battle of her life. Leandra's journey has left her without full-time employment, as she works to protect and care for her father. The rising prevalence of dementia is becoming a worldwide crisis requiring more research and better long-term care provision. According to Alzheimer's Disease International, "there are over 55 million people worldwide living with dementia in 2020. This number will almost double every 20 years, reaching 78 million in 2030 and 139 million in 2050." Consent: George and Leandra Manos consented to this project because they felt that the real story of dementia needed to be told. George has moments of rational thought throughout the day, especially when the project was initially initiated. Leandra signed a release form and signed a release form as power of attorney (POA) for George.
Merit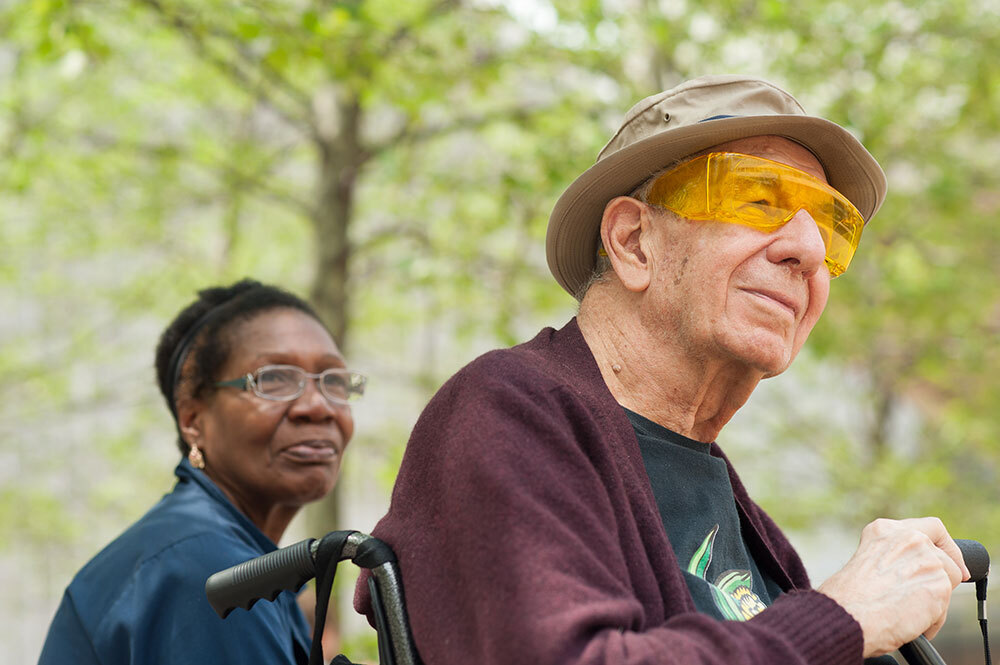 Artist: Ellen Jacob | Title: I Am Family: Orna and Ed in the Park
"It's a partnership. A lot of respect, a lot of love. There's a bond. Understanding."-Orna "I love her like my mom. I love her so much. She's family."-Clover My father loved to make me laugh. He used to sit at the dinner table and tweak his lips with his finger, reminiscent of my favorite doll, Pitiful Pearl. All he had to do was lift his finger to his lips and I started laughing. I couldn't control myself. He would smile. My dad was a smart man, a debater, a litigator, and in later years, it was difficult for him to talk. But I would walk down Broadway, about 20 blocks from my apartment, almost every day to be with my dad and Orna, who cared for him. She would cajole him to engage by saying something she knew he'd disagree with, and, all of a sudden, my dad would lift his finger to his lips, and I would laugh. Then, we three would go to the park, sit, and barely talk, but smile and laugh. Orna helped me cross the barrier separating my dad from seeming to me like a failing man, to being a sensitive, soft, caring, aging human. "I Am Family" is a series exploring both the inescapable bonds between caregivers and their elderly recipients the point at which the job ends and family membership begins. As my father aged, I asked, "Who cares for us as we become transparent, invisible to society? Who cares for us as we seemingly become insignificant and a burden?" I photographed caregivers; spending time with them and their patients. I experienced the deep emotion that transpires when the job ends and family membership begins; when issues of race, gender, religion, economics are replaced with the deepest emotions.
Merit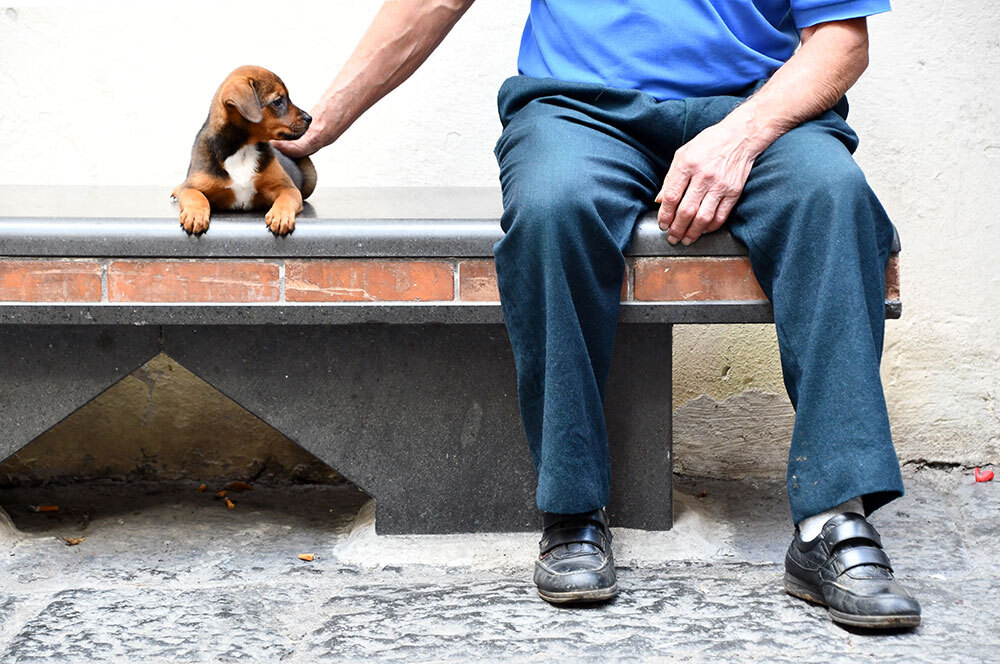 Artist: Steven White | Title: Companionship
What drew me to this image was this unlikely pair of companions, an old man and a young puppy. A grown dog I would expect as the man's companion, but a puppy? The man would not want you to make any mistake about ownership: This was "his" puppy. The puppy hadn't just hopped up on the bench moments before my photograph and introduced himself to the man. No, the two knew each other well already, as you can sense in the familiar touch of the man's hand on the puppy's back. With a hint of mischief before I took their picture, I could tell that the man was proud that this was his dog. It was as if he knew that people don't expect, perhaps even approve of, older adults having puppies, or kittens, or cubs. There was humor and poignancy in this pair that made me smile and marvel at the unlikelihoods that brought them together. But there is more here than the semblance of the Odd Couple. There is genuine "Companionship" where the difference in age is its defining beauty. The years between the man and his puppy are as pronounced as the distance between the ends of the bench on which they sit. This separation, both physical and chronological, represents the gulf that often separates the aged and the aging. The man's outstretched hand is the triumph of this image. His arm bridges the gap between generations with warmth and wisdom that the puppy seems to know in sitting still. The two need one another, like we all do, especially near the bookends of life. Yes, an old man and his puppy.
Merit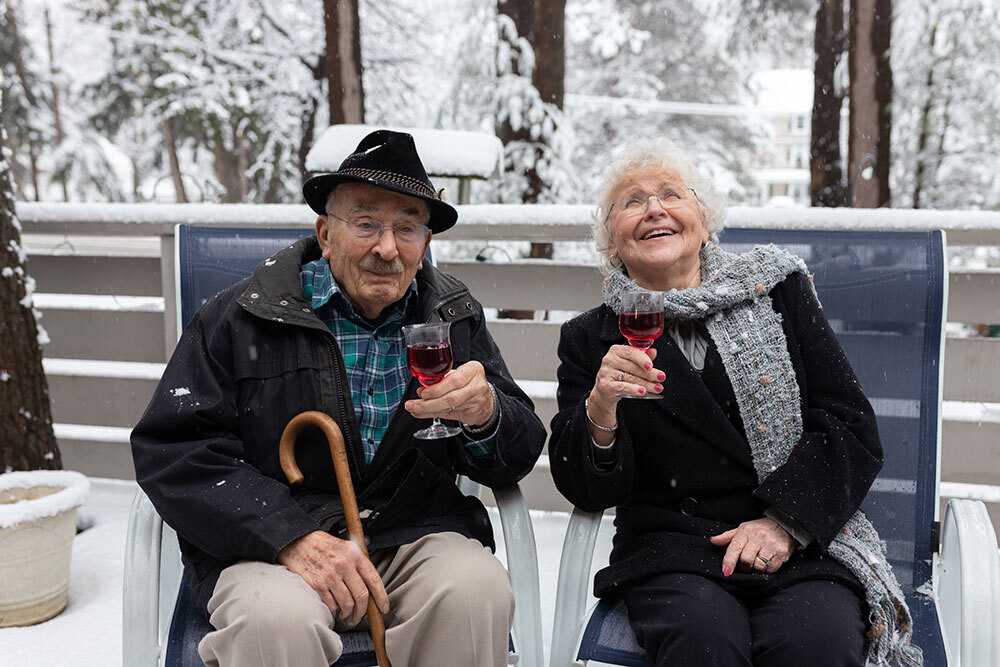 Artist: Mark Holley | Title: Mom Laughs, December, 2019
She was washing her car in the driveway at her parent's house when he walked up and asked if she could use a hand. It was that simple. It was 1957 and they married three months later and became parents less than a year after that. Fast-forward 65 years to the present moment and they are equally if not more enamored with each other today. Their stories span the Great Depression to the world of FaceTime and social media. They are my first and favorite teachers. They are my parents. Shirley is currently 87 and Donald is 93. They live in a small town of 950 people and this image was made as I began to document my experiences with them as part of personal project called Oceana that explores our family connection to a remote part of West Michigan along the lakeshore. Mom is Dad's caregiver and although assisted at times by additional family, she is visibly the glue that keeps their world together and moving forward—she is the driver, medical appointment scheduler, shopper, computer and iPhone specialist, the lead chef, the head laundress, the prescription picker-upper, etc. They are a dream team giving purpose to each other while navigating the daily challenges of physical limitations and living in a cold climate where entire months go by without the sun making an appearance. They do have their laughs, though, like when he waits until she walks in the door from her weekly hair appointment and proceeds to tell Google assistant to "Play Pretty Woman," in order to cue Roy Orbison from a kitchen counter device at a very high volume. Right before we made this image, I noticed that Donald reached down using his cane and then his hands to gently brush off the falling snow that had collected on the seat of Shirley's chair before she sat down. The privilege to witness small acts of care and kindness between best friends is a December gift worth receiving.
Merit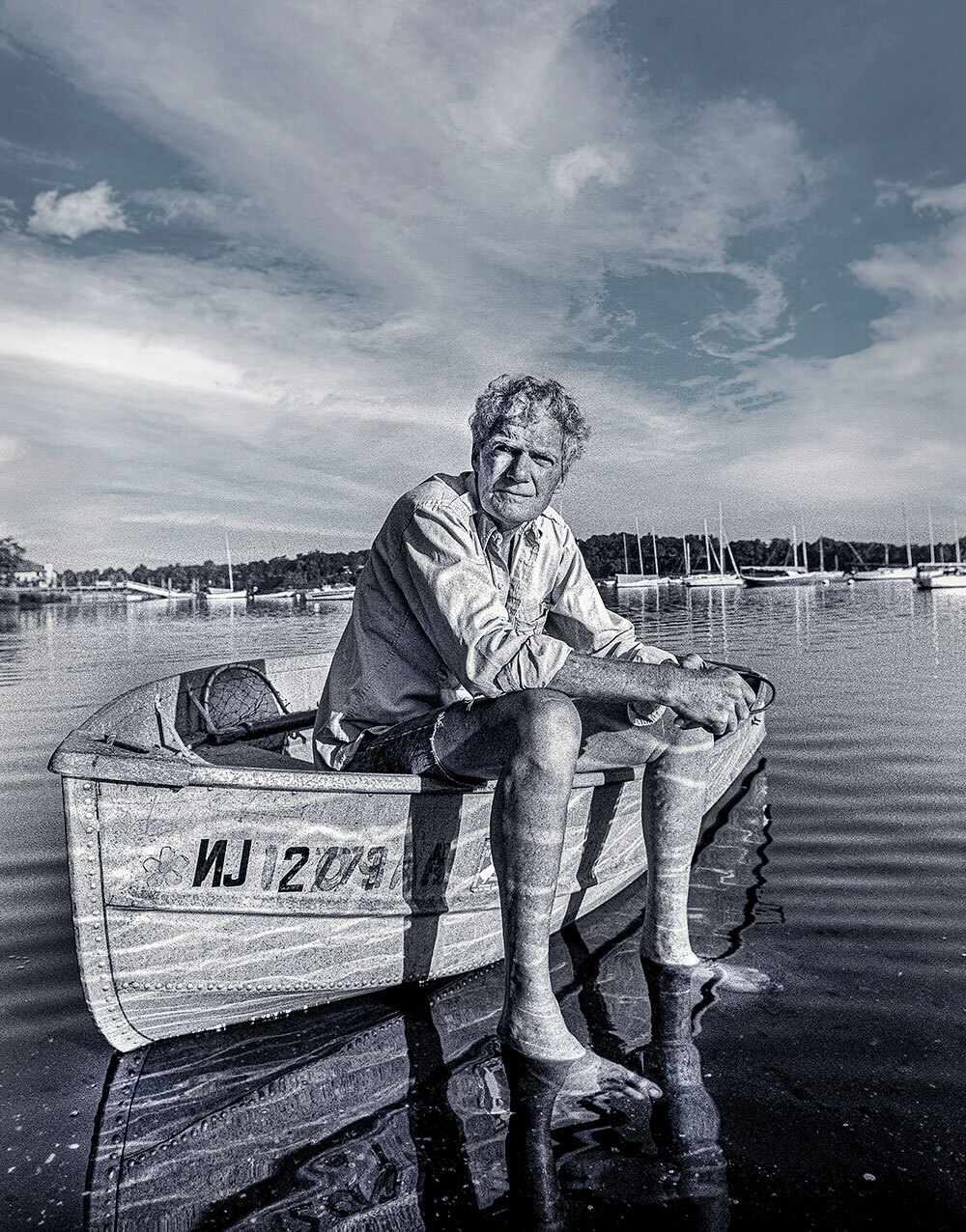 Artist: Michael Papas | Title: Activist

The photograph was shot on the Navesink River in New Jersey. The project was about environmental activists helping to preserve nature in the New York City and New Jersey. The monotone in this photograph is dynamic. It keeps the viewer's eyes on the subject instead of wandering off. It forces us to see beyond the visible world. This image presents a great connection of a man with his environment. The moving sky, a still water surface surrounding him with many little sailboats in the far distance, the man is seated on his boat with an anxious expression. This creates an emotional scene that makes viewers think. The activist lives his life to care for nature. He is asking what people should do to help and protect this living world. It focuses on the activist who lives with dignity, meaning, and purpose.
Merit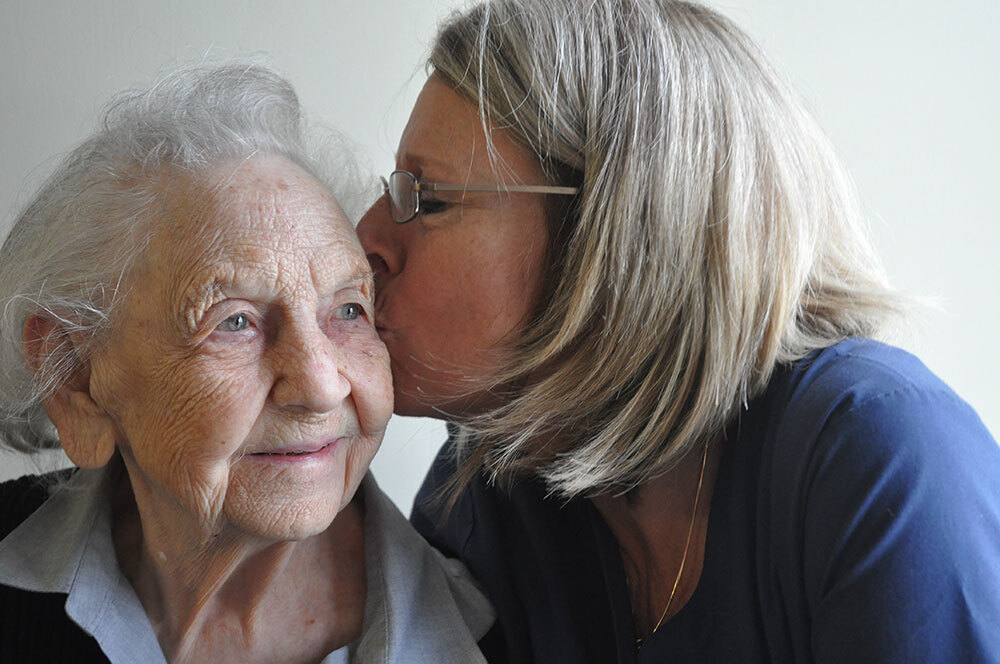 Artist: Connie Springer | Title: Saimi and her Nurse
I first met Saimi when I produced a project interviewing and photographing active nonagenarians. Saimi was 93 at the time and had had a career as a brilliant academician, earning a master's degree in physics at a time when she was often the only woman and sometimes the sole student in her class. Although she wanted to be an astronomer, she was informed by her professor that it was out of the question for a woman, and she found a job during the war as a "human computer" in the MIT radiation lab working on radar for the war effort. Later settling in New York after marrying and having a child, Saimi ultimately moved to Cincinnati to be near her daughter, Elaine. Living independently at first, Saimi eventually moved to a nursing care facility, where I photographed her with one of her favorite nurses. Saimi was a strong believer in doing "whatever it takes — don't give up!" Indeed, she reached her goal of living to 100.
Merit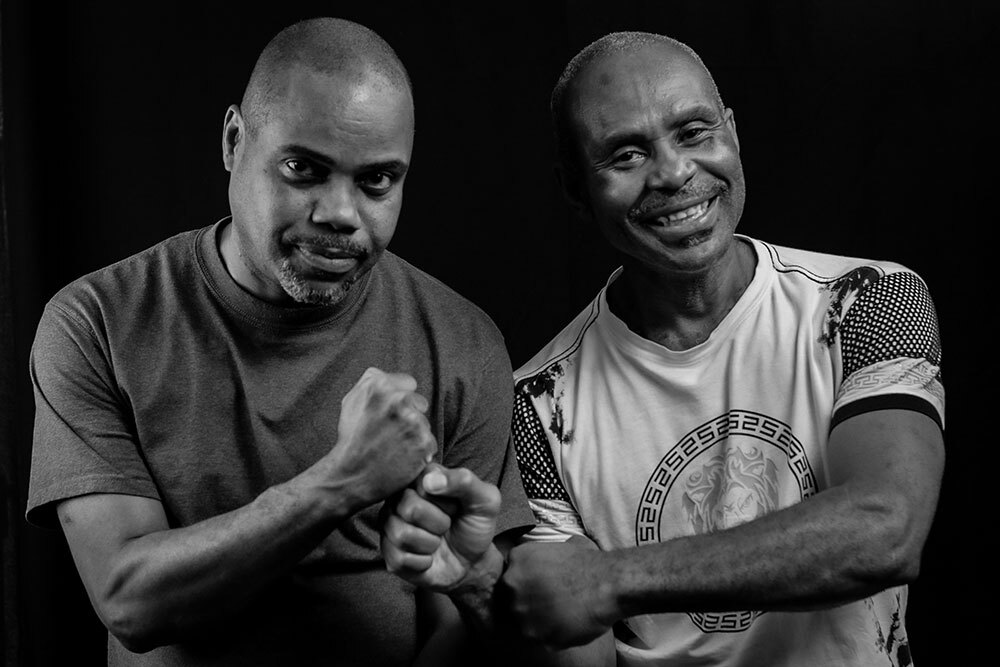 Artist: Sonya Tanae Fort | Title: Brothers In Arms
Brothers-in-Arms: A close associate; especially a fellow member of military service. - Miriam Webster Dictionary This portrait is aptly named "Brothers-in-Arms" because these two men are the embodiment of both definitions. Over the past 40 years they have formed a bond that transcends blood and shared DNA. As brothers-in-law for over 30 years, best men who stood side by side at each other's weddings; godparents to their children; and Veterans who served together in the 82nd Airborne Division of the U.S. Army, they are brothers-in-arms, brothers at heart, brothers for life.
Merit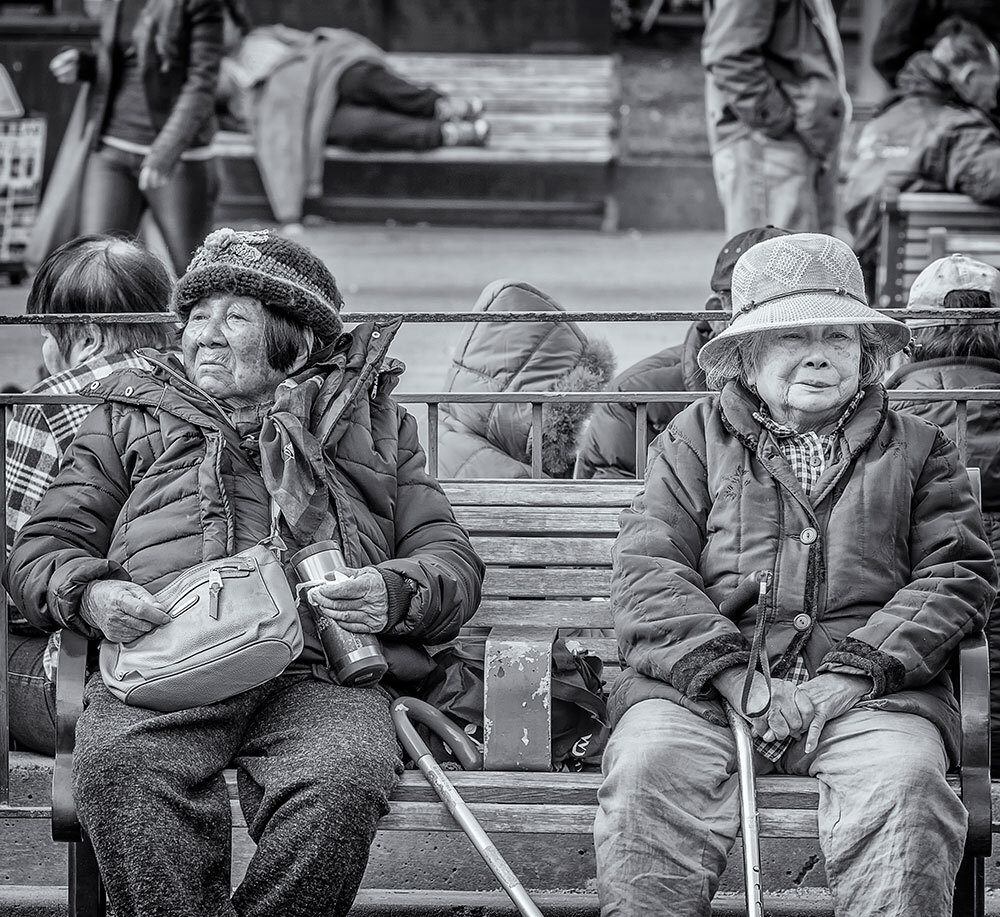 Artist: Mark Coggins | Title: In the Park
Taken in Portsmouth Square, which is sometimes called the "living room" of San Francisco's Chinatown, this image shows a pair of friends sitting on a park bench on a cold December afternoon. Many older adults enjoy hanging out with friends and meeting others in a welcoming environment. The connection keeps older adults active physically and mentally each day, enabling them to participate in the world and stay healthy.
Merit
Artist: Shoshana Fink | Title: Rose
At the time, Rose Sullivan was 96 and her young friend, Colt Bellinger, was six —90 years between them. The image reflects the joy that comes from love between the elderly and the young. Touch is central to this relationship of care, as it bridges both years and language. "Rose" is a portrait from 2019, created in Butte, Montana.
Honorable Mention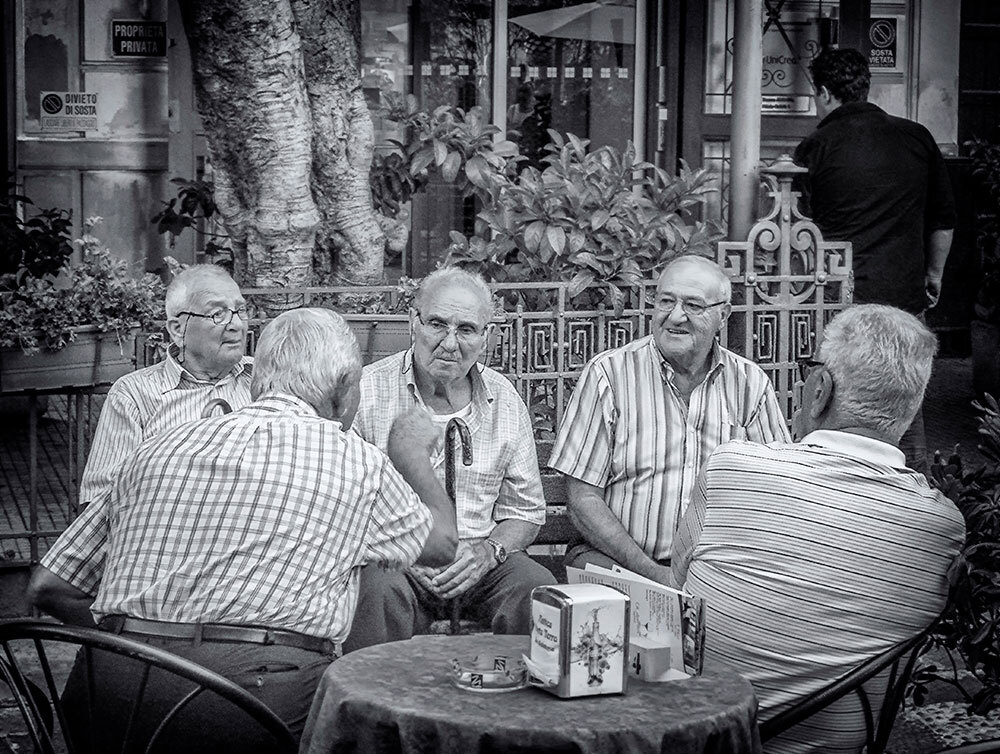 Artist: Mark Coggins | Title: In the Park
This is a photography style that provides a straightforward and accurate representation of people in places. The photojournalist captures this great moment of a group of older men seated at an outdoor table of a cafe in early September. One man is nearly coming out of his seat to make a point during a spirited debate. They look very engaged. These older adults enjoy talking about news and discussing social issues. Their daily conversation is a fantastic way to stay socially active. Friends are essential to their emotional well-being.
Honorable Mention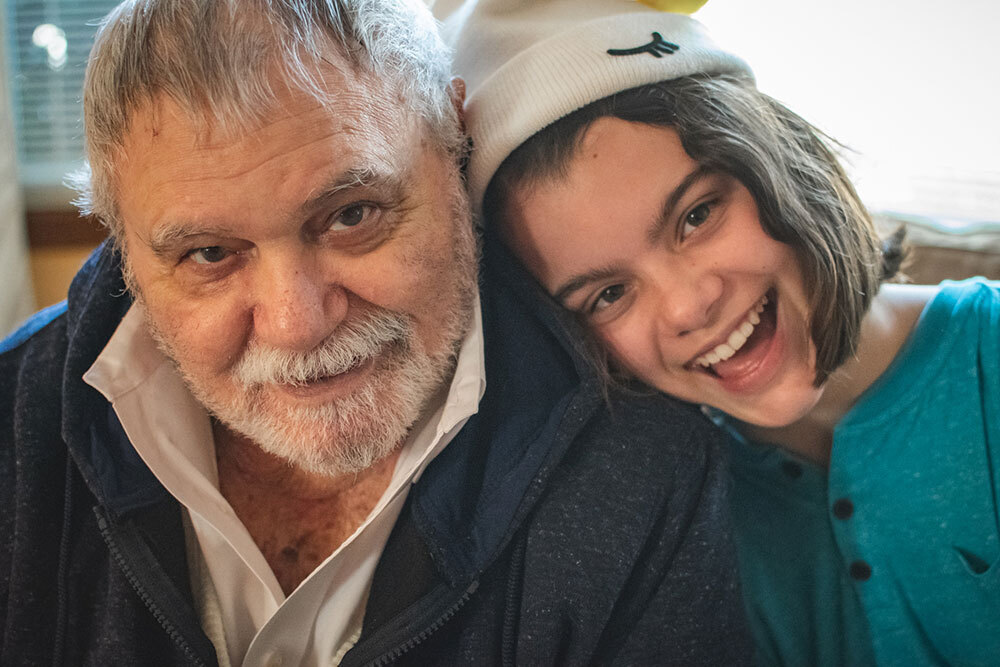 Artist: Lisa Winner & Stephana Ferrell | Title: Grandpa
Captured in partnership with photographer Stephana Ferrell, The Daughterhood Project is a photo story of caregiving for my terminally ill father. As the only child of divorced parents, my caregiving story is one of thousands that occur daily. Over 60% of caregivers are women - daughters and granddaughters, just like myself. The need for visibility on this topic is now. My father passed away on January 12, 2022. Residing on opposite coasts, every few weeks I left my family and traveled east to manage my father's overall care. When not with him, a team of hired caregivers took my place in whatever capacity my father would allow. The financial, physical, and emotional strain of juggling it all was significant and ultimately led to a diagnosis of depression. As a society, we know that long-term care for our elderly is severely lacking. Caregiver support is even less prevalent. Within the last 5 years, the number of Americans providing unpaid elder care has increased by 10 million.
Honorable Mention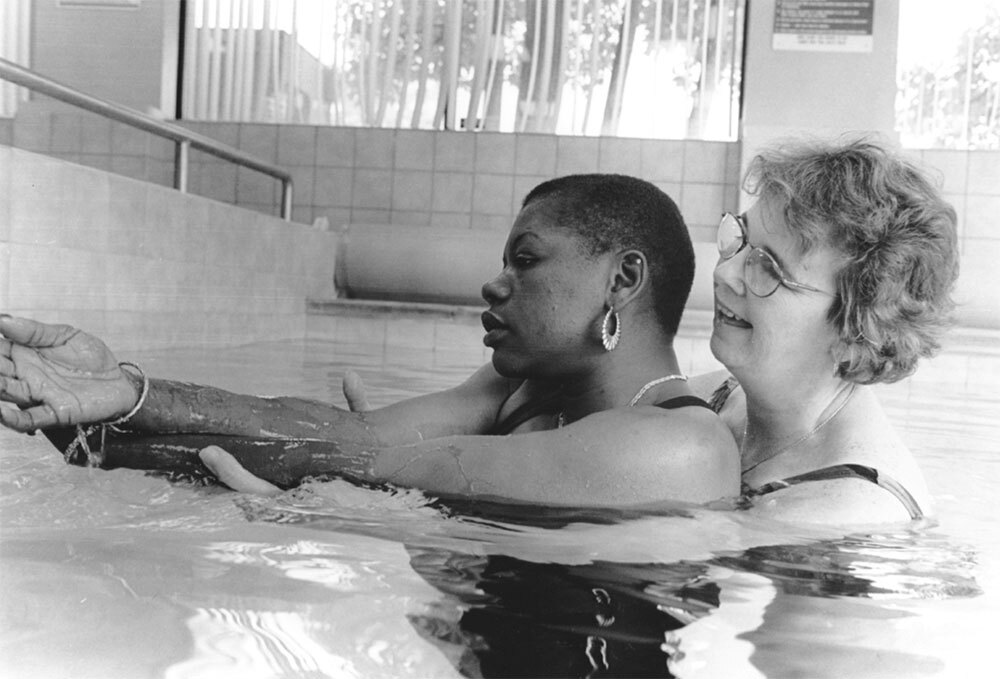 Artist: Connie Springer | Title: Aquatic Physical Therapy
After I had a hip replacement, I started aquatic physical therapy with a highly motivating therapist, Jane Theobald. As a photographer of human-interest scenes, I was inspired to photograph Jane as she worked diligently with a handicapped patient. I loved how upbeat Jane appeared as she caringly guided her patient in stretching in the water.
Honorable Mention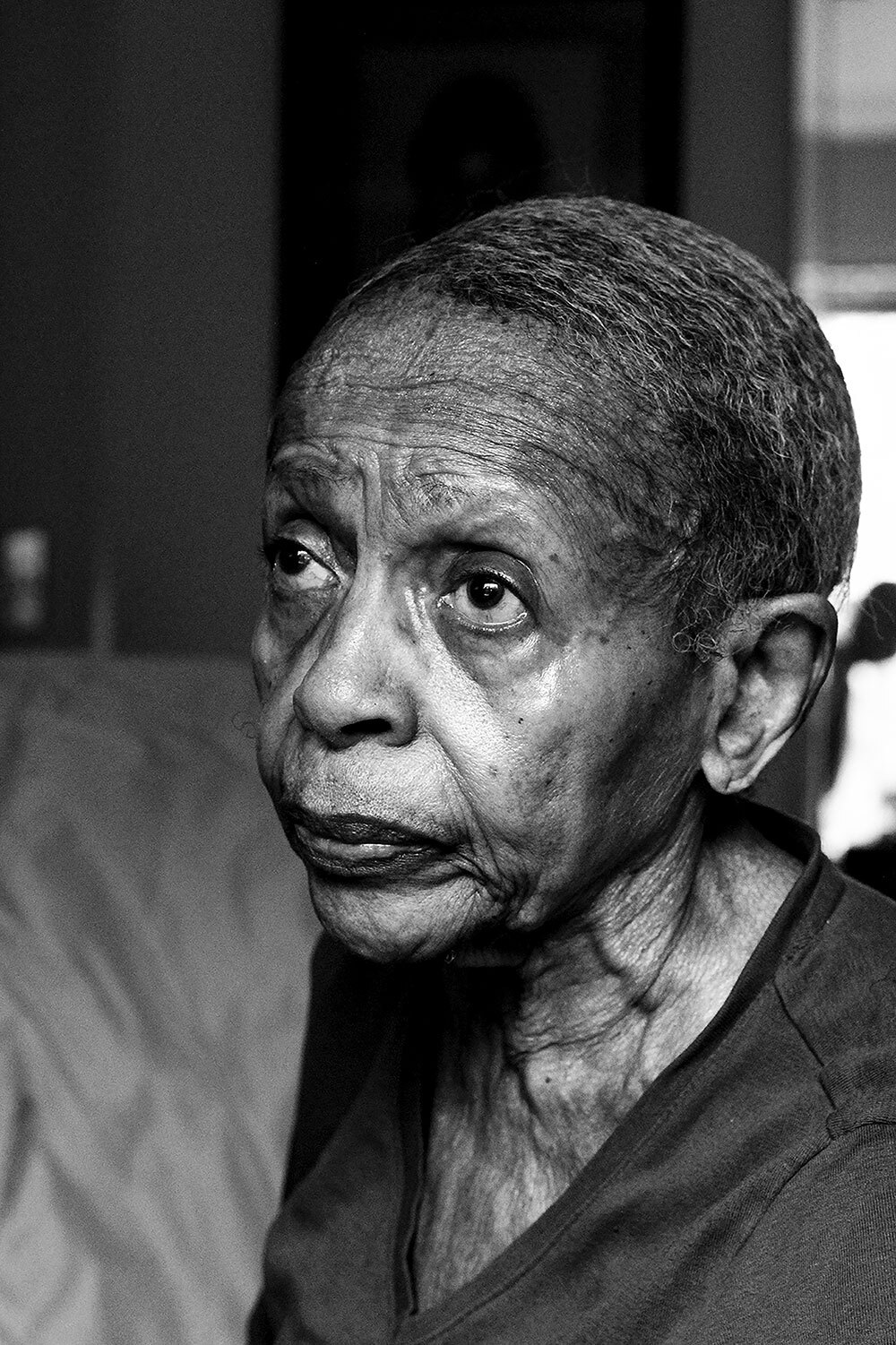 Artist: Alex Eggleston | Title: Elliston
My grandmother Joan Lawrence, was diagnosed with dementia in 2011 shortly after the death of her last living brother. My photo series "Glimmers" was an unfinished series, documenting my grandmother in her last stages of life. I do this by documenting her emotions and everyday life. The word "Glimmers" refers to a word that my mother uses in reference to moments that she remembers. When she remembers her surroundings, remembers her family, and remembers who she is, it gives us hope. Glimmers was and is hope. My grandmother Joan Lawrence died August 12, 2021. This work is in memory of her, my mom the primary caregiver for her and the other people we need to remember for. Even if you don't remember us, we will always remember you.
Honorable Mention
Artist: Nina Weinberg Doran | Title: Touch
As we age, and become adults ourselves, we take a much keener notice of the generations ahead of us, seeing somehow ourselves in the future. How long will we live? What frailties may we have? Will we be mobile until the end? Bedridden? Use a walker or pushed in a wheelchair? Some will think, Will I be alone? Will my children or family help? Can I afford a caretaker? These are all serious and humbling questions we think and ponder about for ourselves, and yet at the same time dealing in the present with our own parents and loved ones. It is this awareness that has made me oversensitive to those aging and in need. I can feel what they must feel, how others see them. They look at those younger, remembering their own youth, viability and yet now are so much more frail or minimized by the aging process. I want the elderly to be honored, those wrinkles, those aging bodies carry so much untold and amazing history.
Honorable Mention
Artist: Claudia Kass Lascola | Title: Putting on socks
Without showing faces, "Putting on Socks" reveals a gentle act of care and patience from the caregiver towards the loved one. It shows a good connection between two members in a simple way while presenting a profound sense of humanity. Simple acts of love reflect the joy of multiple generations living together and the strengthening of the family relationship. The photo captures a dedicated caregiver and the persistent bond of family.
Honorable Mention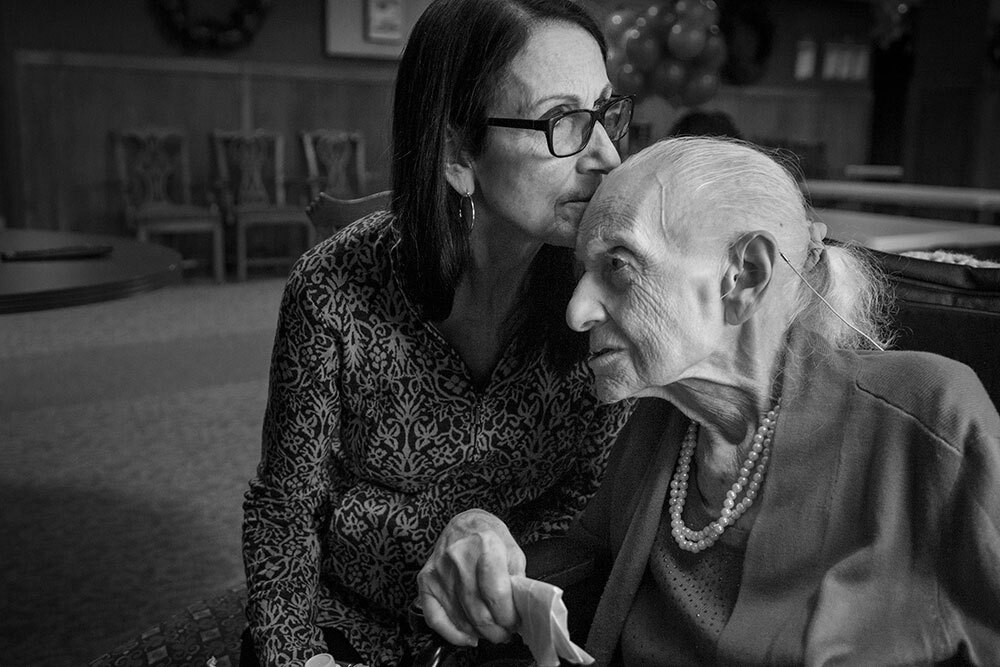 Artist: Michael McFadden | Title: Grandma Cookie
My artwork explores and celebrates interpersonal connection as a form of resistance to multilayered stigma and trauma, both historical and ongoing. It explores the relationship between death and photography, accentuating a longing for what is no longer present. There is no language barrier in this photograph. It's a simple act and gentle gesture in this image which presents a beautiful relationship between caregiver and her loved one. The image gives out a strong emotion and shows great connection between two human being. Time cannot measure the depth of the love and care they have for each other.
Honorable Mention
Artist: Michael Papas | Title: Rachel
The photograph was shot in Harlem, New York City for a diversity project for the City of New York Health & Hospitals. Rachel was a subject for an assignment on people dealing with transitioning; everything else in the background is blurred out, her face is completely clear and in focus. This smiling and confident portrait exudes a great energy and positive outlook. The viewer will find the beauty and inspiration in different situations and much more. The shot captures a perfect spirit—the image invites viewers to look again, look harder, look through her eyes—here is who I am.
Honorable Mention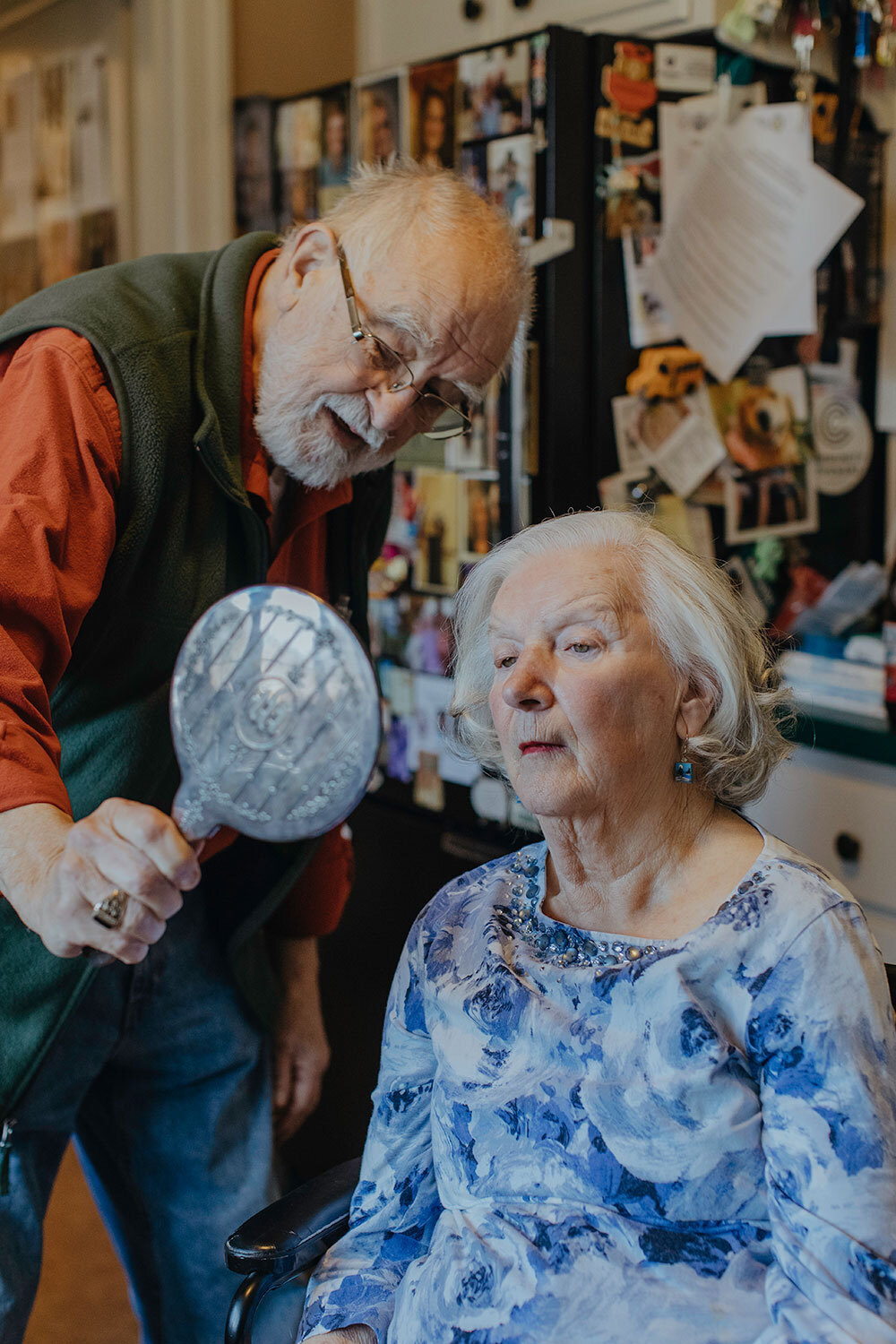 Artist: Hannah Latham | Title: A Glimpse of Beauty
On warm summer afternoons in Maine, we used to play on Gram and Gramp's dock and slip into the shallow water to look for clams. Collections of our findings would be lined up in our assorted beach buckets like treasure. If you swim out a little further from the shore, there's a sizable sandy spot where you can spot the sharp shells glistening in the current. You have to be careful not to step on one, though, because sometimes they'll cut your feet. Soon Gramp would come over to inspect what we gathered. Sometimes he'd pull out his pocketknife and slit one open for us to see, quickly sliding it into his mouth for us to react in horror. We are only around for a fraction of our parents' and grandparents' lives. We will never truly know what it was like to grow up as they did or what it felt like for them to fall in love. The retelling of memories is our only way to access those remains. Sometimes photographs aid in their preservation, leaving clues from decades before. As I attempt to photograph memories from the past in the present tense, I find that places can embody these histories. I think about the pasture where Grandpa helped his cow give birth in front of the school bus. I visit the island where my grandparents experienced their budding romance. I sit in the same chair that Great Grandma used to sit in on Christmas. Each moment of generational nostalgia inevitably falls short in recording the impossible. They are constant reminders of our mortality, each metaphor a footnote in our memory during our limited time in this world. In this ongoing series, I use my camera to cope with my grandparents' lived realities as their health declines and their memories fade. I focus on elements of class and heritage to draw parallels between their experiences, each set two different stories of immigration at different time scales. In their attempts at fulfilling the American dream, I use their possessions and loved ones as evidence of their fruitful lives before this day in time. When it rains, it pours, and each new day is flooded with rituals and responsibilities.
Honorable Mention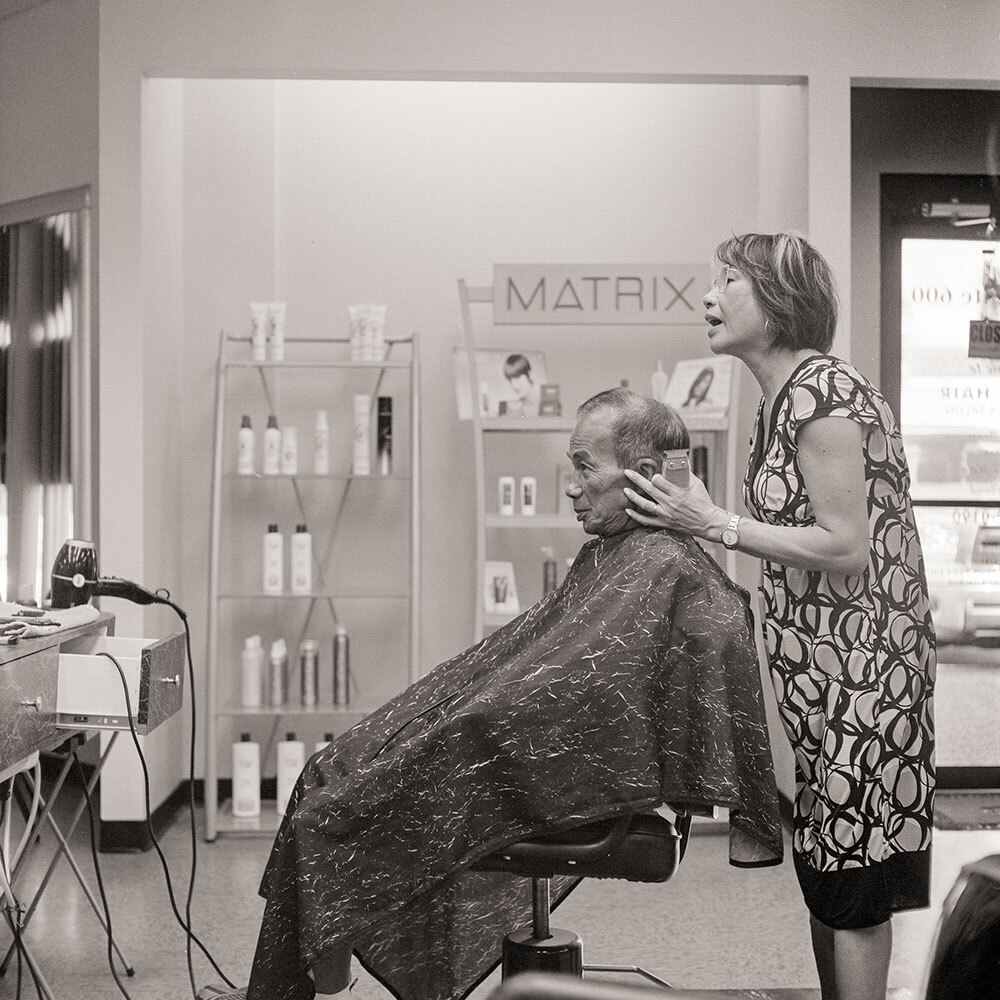 Artist: Joseph Bui | Title: Dad's Haircut
My mom is a hairdresser and owns a small hair salon. Alongside her is my dad who is a handyman and fixes up anything broken. Together, they keep the small salon running. Every so often, we make a trip to the salon as a family to get our haircuts. With my dad, my mother dyes his white hairs to black to keep him looking young. Before my mother left for work in the morning, I would quickly say to her a short phrase that has now become a prayer to me, "I love you. I miss you. Have a good day." This photo essay presents a rich and gentle narrative of family kinship, the inevitability of aging, and the will to move forward. Afraid for their passing, this series is a "goodbye" shrouded behind the feelings of "I love you."
My father is a handyman.
He can fix anything around the house.
He has a stern face. A man of few words.
My mother is a hairdresser.
She cuts our family's hair in her small salon.
She has a gentle face. A charismatic woman.
They are my world and more.
| Access Date | Quiz Result | Score | Actions |
| --- | --- | --- | --- |
Registrant Login
Please login with the email you used to register and the password: NCOAConnect
*If you are using Internet Explorer this site will not function properly. Please switch to another browser such as Google Chrome, Mozilla Firefox, or Safari.
Need further support? Please visit our Tech Support page.